22 марта 2017
О нас пишут: The Russian Way, THE MOVER
The independent voice of the global moving industry
It was in 1996 that IWM, a Singapore-based moving company struggling through the Asian financial crisis, decided to open in Moscow.  Today the company has expanded out of all recognition with additional offices in St Petersburg and Yuzhno-Sakhalinsk, on Sakhalin Island (just north of Japan) and even, since 1 February, 2015 in Cuba – more of which later.  The company celebrated 20 years in business on 10 September last year with a party at the Radisson hotel in the centre of Moscow; staff from all the company's offices joined in.
It was the Russian gas and oil industry and the diplomatic sector that gave IWM its first customer base. When the oil companies started drilling on Sakhalin, so IWM opened there and is still the only moving company on the island.  But as the country became more open and the Russian corporate world became mainstream, so corporate moving took over and now represents the majority of the company's business. IWM is now the largest moving company in Russia, covers the whole country providing moving and relocation services and employs 120 people in Moscow alone.
Victoria Chub is the company's managing director and is well known on the conference scene having attended IAM and FIDI conferences for some years. She said that the old image of the typical Russian worker, with little regard for customer service, is just not true anymore.  "The average age of our people is around 30-35," she said.  "It's a new generation; not the Soviet Union generation. They travel all around the world and they understand the concept of service."
Victoria said that she believes Russian workers to be the best because they don't count hours.  "They leave when the job is done," she said.  "They don't complain and they work hard. We have good feedback from our agents because I think we have a really great team.  They are always ready to go the extra mile even when it's not necessary."  Victoria added, maybe not entirely in fun, that sometimes she has to ask staff to back off a little.  "If you give exceptional service all the time people will expect that it's always like that."
Russia is, of course, a huge country: 11 hours' flying from west to east and a seven-hour time difference between Moscow and Sakhalin.  The distances are immense and often the roads are poor. Sometimes there are no roads at all.  "In some parts of Siberia there are no roads so we have to use railways," she explained.  "Sometimes we have to wait until the rivers freeze and towns are icebound so we can drive our trucks over the frozen water."
Logistics in Russia is sufficiently different from the international requirements that IWM has a separate logistics department to handle the domestic work.  "Drivers have to use their initiative when they are away," said Victoria. "There is no other choice. We don't understand 'can't'.  We just do the job or find someone who can."  Much of the time IWM uses local crews to cut down on the number of man hours spent travelling, but they do have some customers that insist upon a 'white glove' service with a Moscow crew.  "Planning is the key.  99% is planned centrally leaving the driver and crew to sort out any remaining problems on the spot."
Russia is punishing on the trucks too with long distances, bad weather and frequently poor roads.  "We have our own garage for maintenance and only use Mercedes vehicles as they have proved to be most reliable," she said.  "Also, if something happens, wherever you are there is usually a Mercedes mechanic."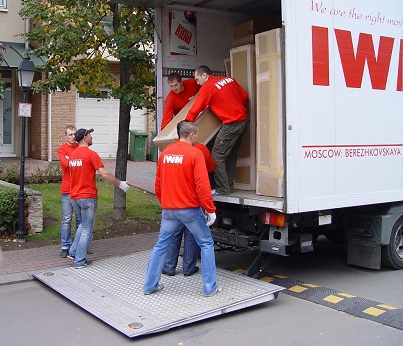 Russia also has something of a reputation for having to 'encourage' officials to do their jobs.  But, according to Victoria, this type of corruption no longer happens.  "In the early 1990s everyone did that because you didn't have a choice," she explained.  But since 1996, when IWM began operations, things have been very different.  "We have never operated that way.  Now people are paid well so wouldn't jeopardise their position by accepting bribes.  After 20 years in the business we have really tight connections to the authorities so we know how to handle these things without resorting to bribery."  Victoria explained that as the company is primarily in the corporate business IWM is required to comply with anti-bribery policy.  "So it's out of the question for us anyway."
In 2015 IWM became the first commercial moving company in Cuba. The company's focus there is on the movement of diplomatic goods and household effects for foreign employees moving to and from Cuba.  Victoria pointed out that there are many similarities between Cuba now and Russia.  "When we started in Russia nobody other than diplomats moved anywhere and we are starting in Cuba in the same way. We see the same picture that we had 20 years ago in Moscow: a government-run, closed country where it doesn't matter what you know, it matters who you know.  It's a model we understand and know how to manage."
IWM has been successful in Russia, especially in the face of some stiff competition.  But as Victoria points out, it's their country, they know how it works.  "We know how to get things done," she said.  "We all have the same background and the same mentality.  They are our people and we talk the same language – we understand each other.  That's why, when serving our customers and international agents, we can find a solution to anything."
Photos: Top right: Victoria Chub, Managing Director; other images: IWM is now Russia's biggest mover and employs 120 people at its Moscow branch alone.